A Blacklist Check is an anonymous review of a shared database listing all phones that have been reported and blacklisted due to loss, theft or unpaid bills.
What does blacklisted mean?
A phone becomes blacklisted when the original operator issues a block so it can no longer be used to place or receive calls/data.
What happens if I order an unlock code WITHOUT a blacklist check?
We recommend this check if you are unsure of the current status of your phone because if reported, you may have incoming/outgoing call restrictions.
What countries/operators does the blacklist apply to?
When a phone is blacklisted, it will not work properly in the country of origin of the network carrier that reported it. These restrictions normally only apply to the country of origin of the network that placed the phone on the blacklist. However, as blacklist regulations change regularly, we cannot guarantee that these restrictions do not extend to other countries in the future as well.
Please keep in mind that doctorSIM CANNOT remove a phone from the blacklist. A phone can only be removed from the blacklist by the network carriers and government authorities once the legal owner of the phone has resolved the issue that led to the phone being reported in the first place (loss, theft or unpaid bill).
Is it anonymous?
100%. We place the request check on behalf of doctorSIM with no information being shared.
What are the advantages of requesting this blacklist check with my unlock order?
doctorSIM is the only unlocking company that offers you the possibility of checking the status of your phone prior to processing your unlocking request. Avoid unlocking a phone if you do not know 100% for sure it is not reported!
How do I request a blacklist check? How does it work?
Simply mark the checkbox "Include GSMA Blacklist check".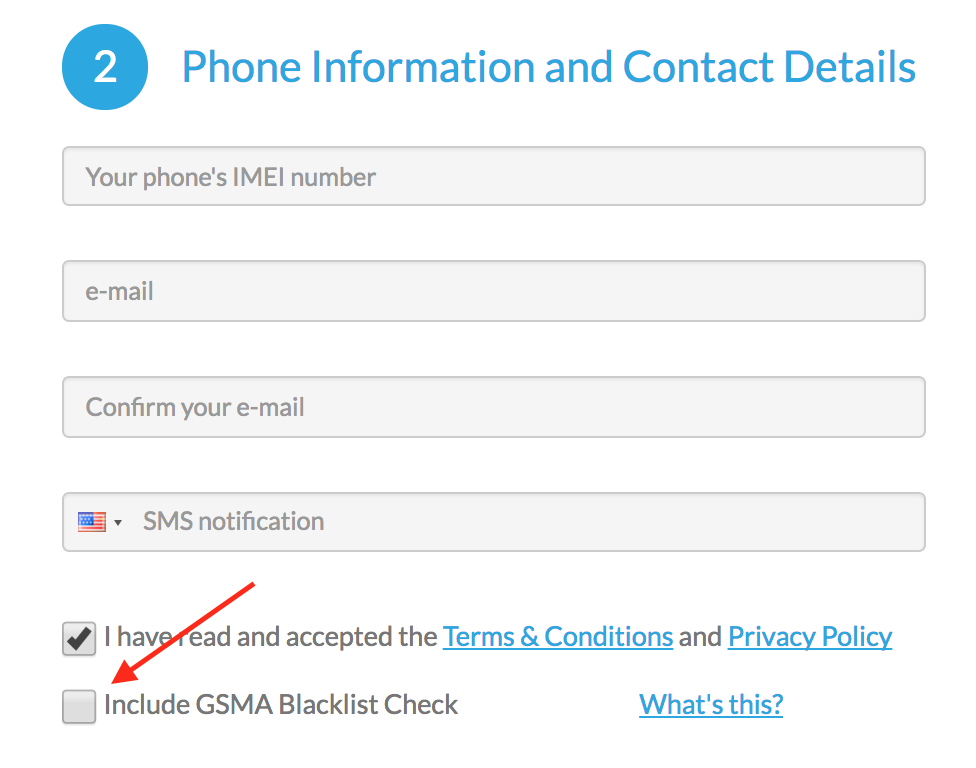 We will scan the GSMA database for you to see if your phone has been reported. If your phone has not been blacklisted, we'll process the unlocking without delay. If blacklisted, we will immediately contact you to confirm if you want to proceed or cancel your unlocking request.
Add the blacklist check to your unlocking request if you have any doubts about the current status of your phone. It's fast, inexpensive, and 100% anonymous.
Why don't I have the option of a blacklist check?
A blacklist check is only available for phones locked to network providers that collaborate with the GSMA initiative.